Tallinn Coffee Festival #TLNCF is an event where both professionals and enthusiasts – local roasters, cafes, distributors and coffee lovers – can get together. Guests can explore many different types of coffee specialties, preparation methods and equipment. Good music, entertaining program, engaging competitions and a wonderful aroma wait for all the guests of the festival. In addition to coffee, the festival also features other hot drinks like tea and hot chocolate, street food places and cafes.
The organizers and participants of TLNCF aim to develop the cafe culture in Estonia. Contributing to informed consumption, bringing consumer interest, surprising coffee lovers with new products – this is the mission of the coffee festival.
Next Tallinn Coffee Festival will take place on 23.-24.04.2021 – save the dates!
The two-day TLNCF programme is targeted at coffee fanatics and industry professionals running coffee shops and restaurants. There will be barista competitions for professionals.
Tallinn Coffee Festival is an event coffee fanatics must not miss! Professionals will receive new information and consumers and foodies will have two days packed full of coffee and culture. And you can make lot's of selfies and friendsies.
Saturday, 5.09 – Estonian Cupping Championship
11:00 Start of the competition
15:20 Final
15:40 Award ceremony
Sunday, 6.09 – Estonian Latte Art Throwdown
10:15 Start of the competition
14:45 Final
15:00 Award ceremony
About traffic management in Tallinn 5.09.
There are some changes in traffic management. The Kultuurikatel venue can be reached by car via Ahtri Street or Mere pst. It is not directly accessible from Põhja-Tallinn by car. You have to drive through the city center.
Temporary traffic signs indicate parking spaces at Linnahall, which can be reached via Rumbi Street. It is also the closest parking lot to Kultuurikatel. In addition, it is possible to park on Ahtri, Kai, Sadama streets, for example. The large new parking area is open opposite the cruise terminal on Logi street, 600m from Kultuurikatel.
Pedestrians have access to the Kultuurikatel venue from all directions, incl. from Põhja-Puiestee, the Old Town, by the Balti Jaam etc.
Trams no 1 and 2 do not run on Saturday. Buses 3 and 73 will come near the Kultuurikatel. The nearest stop is "Linnahall".
On Sunday, 6.09. all traffic is normal and the Kultuurikatel can be accessed from all directions.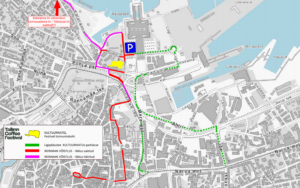 *Click to zoom
TLNCF team
Tallinn Coffee Festival is organized by Profexpo OÜ
Profexpo OÜ has been organizing Food Fairs in Tallinn since 1993.

Kennet Sarv
head organizer
Profexpo OÜ
Kennet.Sarv@profexpo.ee
+372 52 71 095
Richard Tihaste
Programm coordinator
Richard
@tallinncoffeefestival.ee
Helen Saluveer
Meedia ja kommunikatsioon
Helen@balalaika.ee
Rene Õuemets
Programm coordinator
rene@tallinncoffeefestival.ee